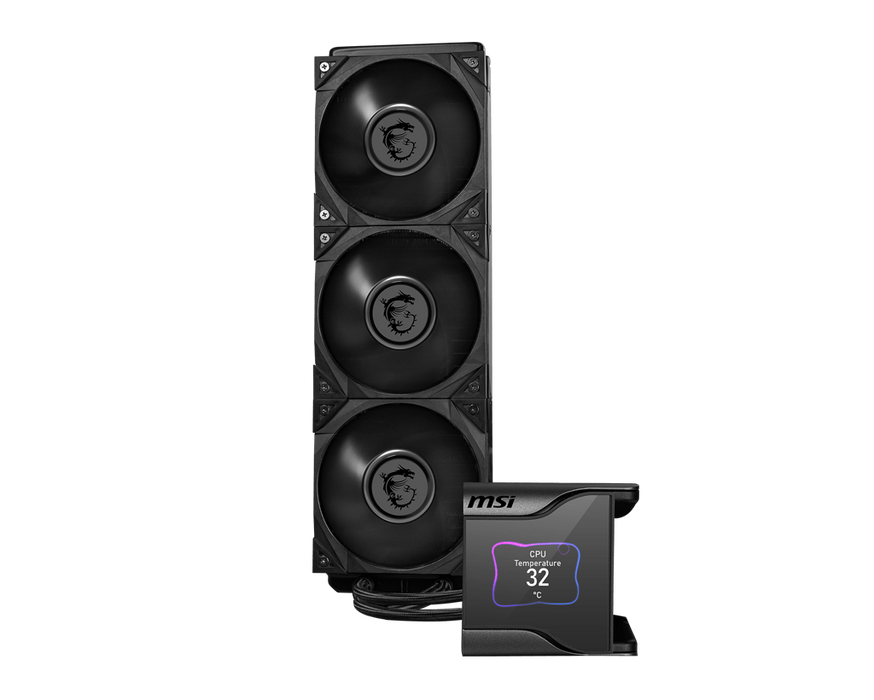 MSI MEG CoreLiquid S360 360mm AIO CPU Cooler
Original price
$479
-
Original price
$479
The MEG CORELIQUID S Series is here to provide the ultimate silence cooling. It is equipped with MSI's innovative MEG SILENT GALE P12 silent gaming fan and supports 0 rpm fan mode. The 2.4" IPS display can also help you see a conglomerate of hardware information or customizable graphics and videos. The MEG CORELIQUID S Series descends from the top, and you just can't hear it coming.
SILENT COOLING
MSI's MEG SILENT GALE P12 provides sufficient airflow to the radiator for cooling while maintaining low noise levels.
MEG SILENT GALE P12
The MEG SILENT GALE P12 is MSI's innovative silent fan designed to generate the most silent airflow.
CONCENTRATED COOLING PERFORMANCE
A 60mm fan is placed within the water block to help dissipate heat for the M.2 SSD, CPU VRMs, and surrounding components.
FAN 0 RPM
The MEG SILENT GALE P12 and the water block fan support 0% RPM to ensure zero noise under low temperatures.
2.4" CUSTOMIZABLE IPS DISPLAY
The MEG CORELIQUID S Series comes with a 2.4" IPS display capable of displaying hardware information, GIF, MP4, photos, texts, and live weather information.
Hardware Monitor
Video / Image
System Clock
Live Weather
TOTAL CONTROL IN YOUR HANDS
Everything ranging from MEG CORELIQUID S Series' fan speed to the IPS display can be adjusted through the MSI Center.