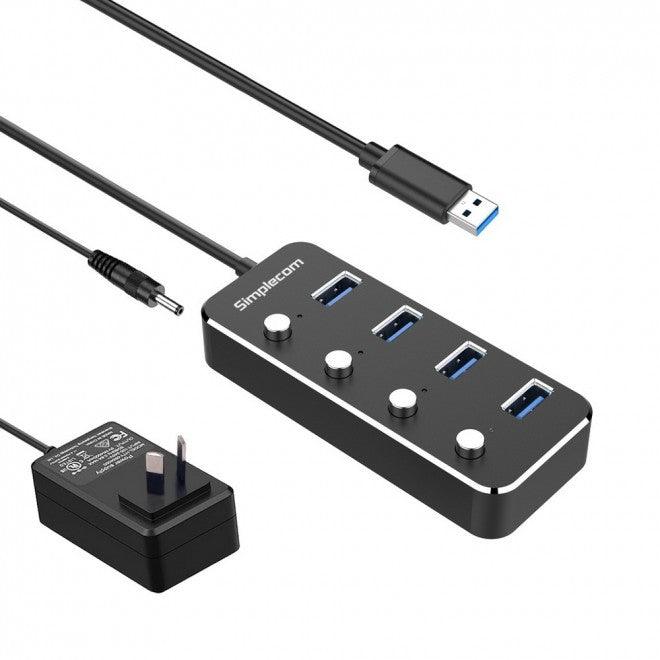 Simplecom CH345PS Aluminium 4-Port USB 3.0 Hub with Individual Switches and Power Adapter
Original price
$49
-
Original price
$49
Expand your computer's USB connectivity with this 4-port USB 3.0 hub, you can instantly connect 4 USB devices through single USB port on your computer. This 4-port aluminium hub is a sleek and stylish extension to your laptop or PC, making easy to connect more USB devices to computer.
This hub comes with an external power supply, which enables the hub to power and access energy-consuming devices, such as USB hard drive. Plus, each port has its own separate power switch so you can control each port independently without unplugging the equipment. This hub is complaint with USB 3.2 Gen 1 (USB 3.0) standard and supports up to a 5Gbps data transfer rate, it's also backwards compatible with USB 2.0 and 1.1.
Features
4-Port USB 3.0 Hub for PC and Laptop
USB 3.2 Gen 1 (USB 3.0) SuperSpeed Data Transfer Rate up to 5Gbps
Sleek design with aluminium casing and LED indicators
Equipped with 4 individual on/off switches to control each USB port
Plug and play, no additional driver required
Backward Compatible with USB 2.0 & 1.1
AC adapter included when more power is required for energy-consuming devices
Supports Windows XP and above (32/64-bit), MacOS 10.2 and above
Specifications
Model: CH345PS
Material: Aluminium
Input: USB 3.2 Gen 1 Type A (USB 3.0)
Outputs: USB 3.2 Gen 1 Type A (USB 3.0) x4
Power Input: DC 5V2A
Cable length: 60cm approx.
Weight: 70g approx.
Dimension: 10.2cm x 4.2cm x 1.8cm (LxWxH)
Package Contents
1x 4 Port USB 3.0 Hub
1x 5V2A Power Adapter
1x User manual
Note
USB 3.2 Gen 1 is the standard previously known as USB 3.0 or USB 3.1 Gen 1, and will now be called USB 3.2 Gen 1 according USB-IF rebranding.