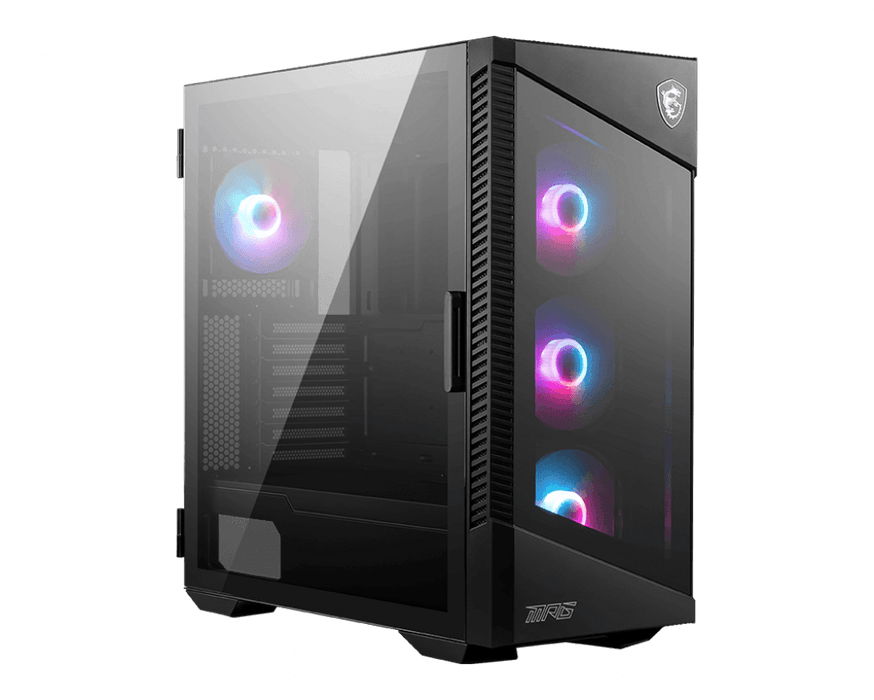 MSI MPG Velox 100R ATX Mid-Tower Case W/4x 120mm ARGB Fan
Original price
$219
-
Original price
$219
UNMATCHED POWER
Equip your battle station like no other with the MPG VELOX 100 Series. Inspired by speedy patterns and lively lighting effects, the MPG VELOX 100 Series is sure to help you dominate the battlefield with unmatched power.
VENTILATED FRONT PANEL
The MPG VELOX 100R's front panel consists of a tempered glass that can clearly showcase the fans' ARGB lighting without any obstruction.
ARGB SHOWROOM
Create your own ARGB battle station with the MPG VELOX 100 Series, fully supported by MSI Mystic Light.
INSTA-LIGHT LOOP BUTTON
Quickly control the MPG VELOX 100 Series' lighting effects with the Insta-Light Loop at the touch of a button. Click through the profiles at ease and choose a favorite.
VERTICAL GPU MOUNT
The MPG VELOX 100 Series comes with a vertical GPU bracket as an accessory that allows you to mount your graphics card vertically.
SIDE AIR VENTS
The MPG VELOX 100 Series comes with a side air vent that can support up to 2 fans / 240mm radiator.
*Installing fans or radiator on the side requires the front fans to be uninstalled first.
BETTER TOGETHER
Synergize the MPG VELOX 100 Series with a MSI motherboard by bridging a USB Gen2x2 Type-C port with 20 Gbps for convenient access. Establish a complete MSI gaming ecosystem with a graphics card, liquid cooler, and power supply.
BIG VOLUME
The MPG VELOX 100 Series provides excellent components clearance, capable of having 1 x 360mm radiator/3 x 120mm fans on both the top and the front.
HARDWARE CAPABILITIES
Hinged Tempered
Glass Window
Magnetic Dust Filter
Front USB 3.2 Gen 2x2 Type C
Side Ventilation
Ventilated Front Panel
1 to 6 Control Board
Dust Filter
OPTIMIZED AIRFLOW
The MPG VELOX 100 Series is optimized to provide generous and effective airflow for system cooling with vents built throughout the system. The MPG VELOX 100 Series comes with 4 fans and can mount up to 7.
HINGED TEMPERED GLASS SWINGING WINDOW
The 3mm hinged tempered glass swinging window offers the best durability and system accessibility.
RISER CABLE SUPPORT
With the help of the vertical GPU bracket, the MPG VELOX 100 Series can also install MSI's MAG PCI-E 3.0 X16 Riser Cable, which can be bought separately as an accessory.
COMPONENTS CLEARANCE
CPU Cooler Length: 175mm
GPU Length: 380mm
PSU Length: up to 220mm (without 3.5" HDD tray)
COMPONENTS CLEARANCE
Fan Support
Radiator Support
PRODUCT SPEC
Product Name
MPG VELOX 100R
Support MB Form Factor
E-ATX / ATX / M-ATX / ITX
Dimensions (W) x (D) x (H)
474 x 231 x 490 mm / 18.7 x 9.1 x 19.3 inches
Dimensions w/o Feet/Protrusions/Screws (DxWxH)
420 x 220 x 460 mm / 16.5 x 8.7 x 18.1 inches
I/O Ports
2 x USB 3.2 Gen 1 / 1 x USB 3.2 Gen 2x2 Type C /
1 x Audio / 1 x Mic
Driver Bays
2.5" SSD x 2 / 3.5" HDD x 2
VGA Card Support
380mm / 15inches
CPU Cooler Support
175mm / 6.9inches
Power Supply
Standard ATX, max up to 220mm (without 3.5" HDD tray installed)
Cooling Layout
Front: 120mm x 3 or 140mm x 3
Top: 120mm x 3 or 140mm x 2
Rear: 120mm x 1
Side: 120mm x 2
Radiator Layout
Front: 120 / 140 / 240 / 280 / 360mm
Top: 120 / 140 / 240 / 280 / 360mm
Rear: 120mm
Side: 120 / 240mm