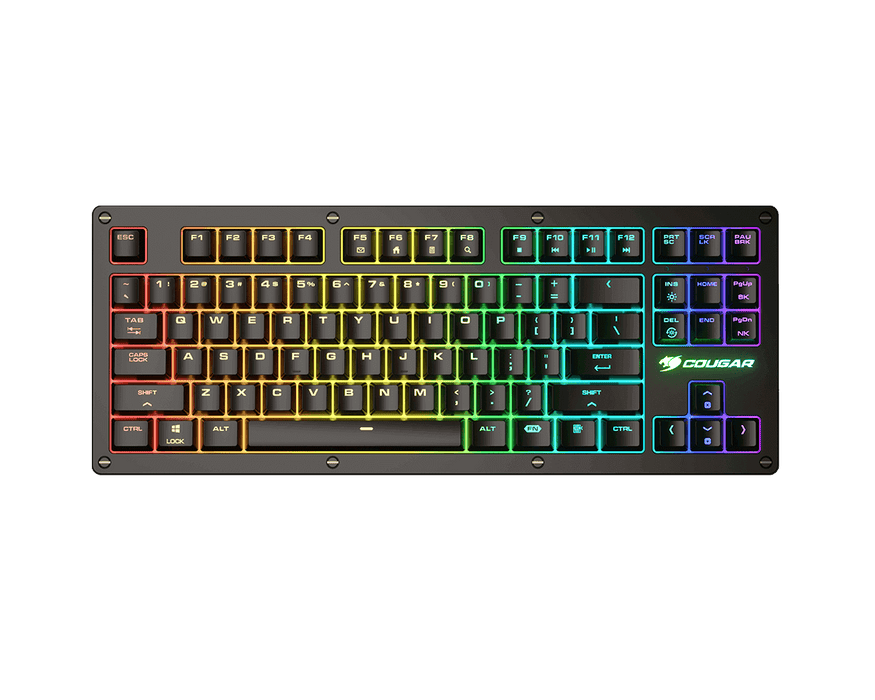 Cougar Puri-TKL-RGB-Red TKL Red mechanical Gaming Keyboard
Original price
$95
-
Original price
$95
The Gamer's RGB Ultimate Weapon
With RGB mechanical switches, a 1ms response time and customizable backlight as well as a protective magnetic cover, COUGAR PURI TKL RGB is a highly portable advanced FPS competitive gaming keyboard that will amaze everybody with its lighting effects.
PURI TKL RGB is a pleasure to look at. With its 14 lighting modes, including a customizable one and 13 gorgeous preset modes, you will be able to play in dimly lit places, as well as generate the exact gaming atmosphere you need!
Magnetic Protective Cover
No cloth or mesh pouches here: to truly protect your keyboard both at home and on the go, you need (and we are happy to give you!) a solid cover. PURI TKL RGB's magnetically attached cover will protect it from water spills, bread crumbs or pressure when traveling.
TOTAL PROTECTION WHEREVER YOU GO
Ultra-Compact Tenkeyless Design
With all the features you need and taking the minimal amount of desktop real estate, PURI TKL RGB is comfortable, sturdy and stable. This compact design is also perfect for bringing it with you to LAN parties, friends' homes and virtually anywhere you might want to enjoy gaming with your mechanical keyboard.
Equipped with COUGAR's mechanical switch, this keyboard offers both total reliability and clear tactile feedback that lets you know when your input has been registered.
Operation Style: Linear
Operating Force: 45g
Actuation point: 1.8 mm
Travel Distance: 3.0mm
Life Cycle: 50 Million

Operation Style: Clicky
Operating Force: 60g
Actuation point: 1.8 mm
Travel Distance: 3.0mm
Life Cycle: 50 Million

Detachable Cable for Enhanced Portability
This convenient feature allows you to remove the cable when traveling with your keyboard, protecting both the keyboard and the cable and improving its portability.
Keep PURI TKL RGB's cable where you want it, preventing it from interfering with your hand or mouse's movements.
3-Step Height and Angle Adjustment
The ability to choose one of three different heights/angles for the keyboard helps you optimize your performance.